RECIPE
SNICKERS ICE CREAM BROWNIE BOMBES.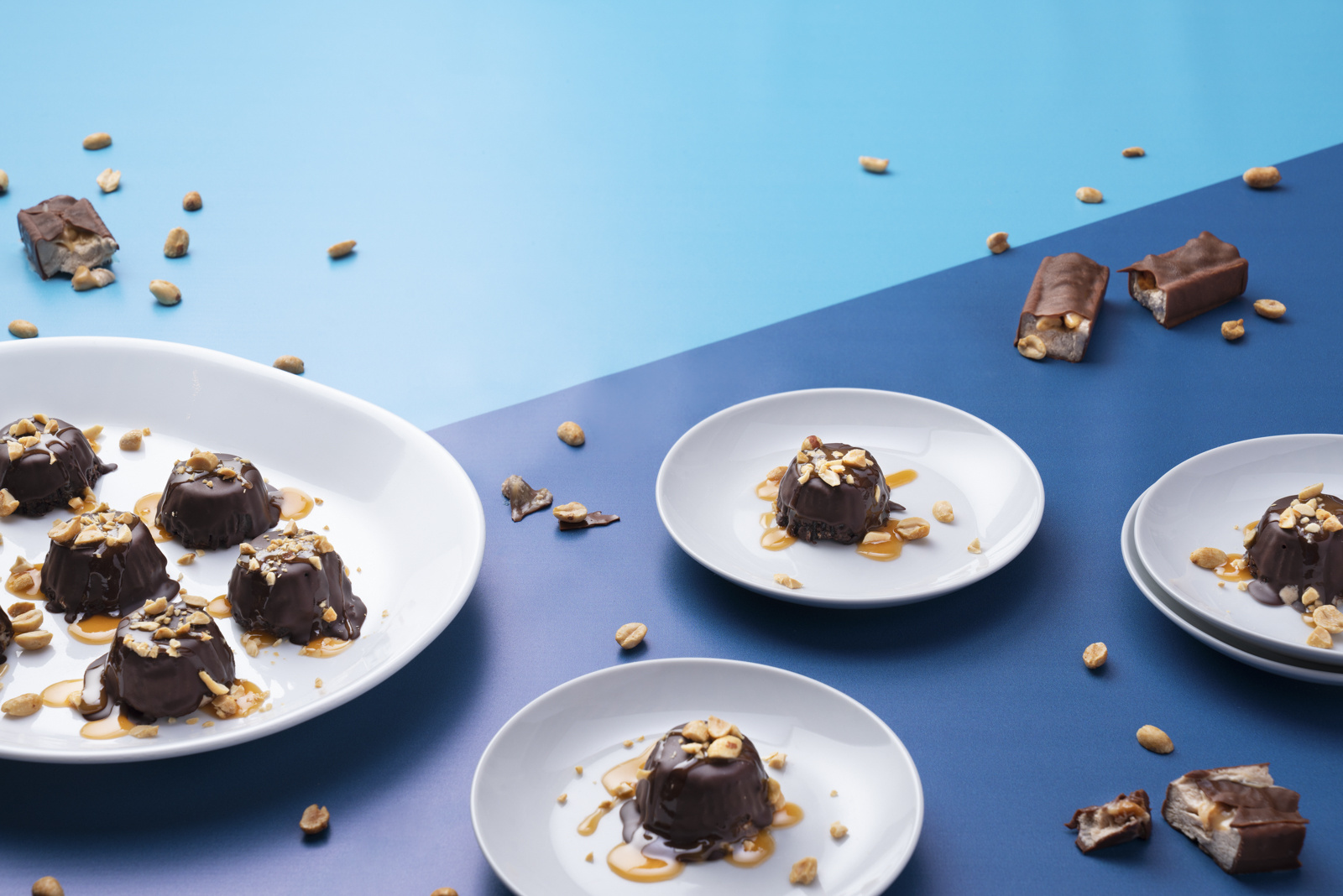 SNICKERS ice cream is encased in brownies for an outrageous bite that is sure to please any crowd.
INGREDIENTS
1 pkg (18.3 oz) brownie mix
2 SNICKERS Ice Cream Bars
3 oz dark chocolate, melted
2 tbsp caramel sauce
2 tbsp peanuts, finely chopped
INSTRUCTIONS.
1

Prepare brownies according to package directions; bake in 11- x 7-inch baking dish lined with enough parchment paper to leave 1-inch overhang on long sides. Let cool completely.

2

Using 1 1/2-inch round cookie cutter, cut out 10 rounds from brownies; set aside. Using 1-inch round cookie cutter, cut out 10 rounds of brownies; set aside. (Reserve remaining brownies for another use.)

3

Line 10 mini muffin cups with plastic wrap or paper liners. Press 1 1/2-inch brownie rounds into prepared cups, pressing into bottom and up sides of cups.

4

Cut each SNICKERS Ice Cream Bar into 5 pieces; place 1 piece in each brownie cup. Cap with smaller brownie rounds, pressing to flatten and enclose ice cream. Freeze for 2 to 3 hours or until firm.

5

Remove bombes from muffin cups; transfer to parchment paper–lined tray. Dip each bombe into melted chocolate to coat top and sides. Return to tray; freeze for 1 hour. Keep frozen until ready to serve.

6

Just before serving, top each bombe with drizzle of caramel sauce and sprinkle of peanuts.

Tip

Short of time? For speedy prep, use store-bought brownies.